NBS invites you all to the national NBS Seminar series! The seminar series is a collaboration between all local NBS branches with talks by researchers from Oslo, Bergen, Trondheim, Tromsø and Ås. The seminar will be held on zoom and is open for all!
Title: NAD replenishment therapy for Parkinson's disease: from the bench to the bedside
Speaker: Charalampos Tzoulis, Department of Neurology, UiB
Tuesday April 26th at 14.30 (Open for all!)
Zoom Meeting ID: 662 5637 2254
Passcode: 39692239
Link to zoom meeting → https://uib.zoom.us/j/66256372254?pwd=TTdhV2lTTjIyUmszZGZDTUNaN3VDZz09
Parkinson's disease is one of the most common neurodegenerative disorders, affecting approximately 1-2% of the population above 65 years of age. The disease is characterized by the formation of Lewy bodies, death of dopaminergic neurons in a part of the brain called substantia nigra, and a corresponding loss of dopamine signaling. There is no cure for Parkinson's disease, and all treatment options are symptomatic treatments with no effect on disease progression.
Charalampos Tzoulis is a Professor of Neurology and Neurogenetics at the University of Bergen and Haukeland University Hospital, and an expert on movement disorders and neurodegeneration, including dementia and parkisonism. His research focuses on exploring the role of mitochondrial dysfunction in Parkinson's disease (PD) with the aim to improve patient diagnosis and develop neuroprotective therapies.
Charalampos Tzoulis is the Principal Investigator of the research group Neuromics at the University of Bergen and co-Director of the Neuro-SysMed Center of Excellence for Clinical Research in Neurological diseases, where he leads the research on PD and are running two clinical trials aimed at improving treatment for patients with Parkinson's disease. Since 2022, he is also the Director of the K.G. Jebsen Center for Translational Research in Parkinson's Disease at UiB.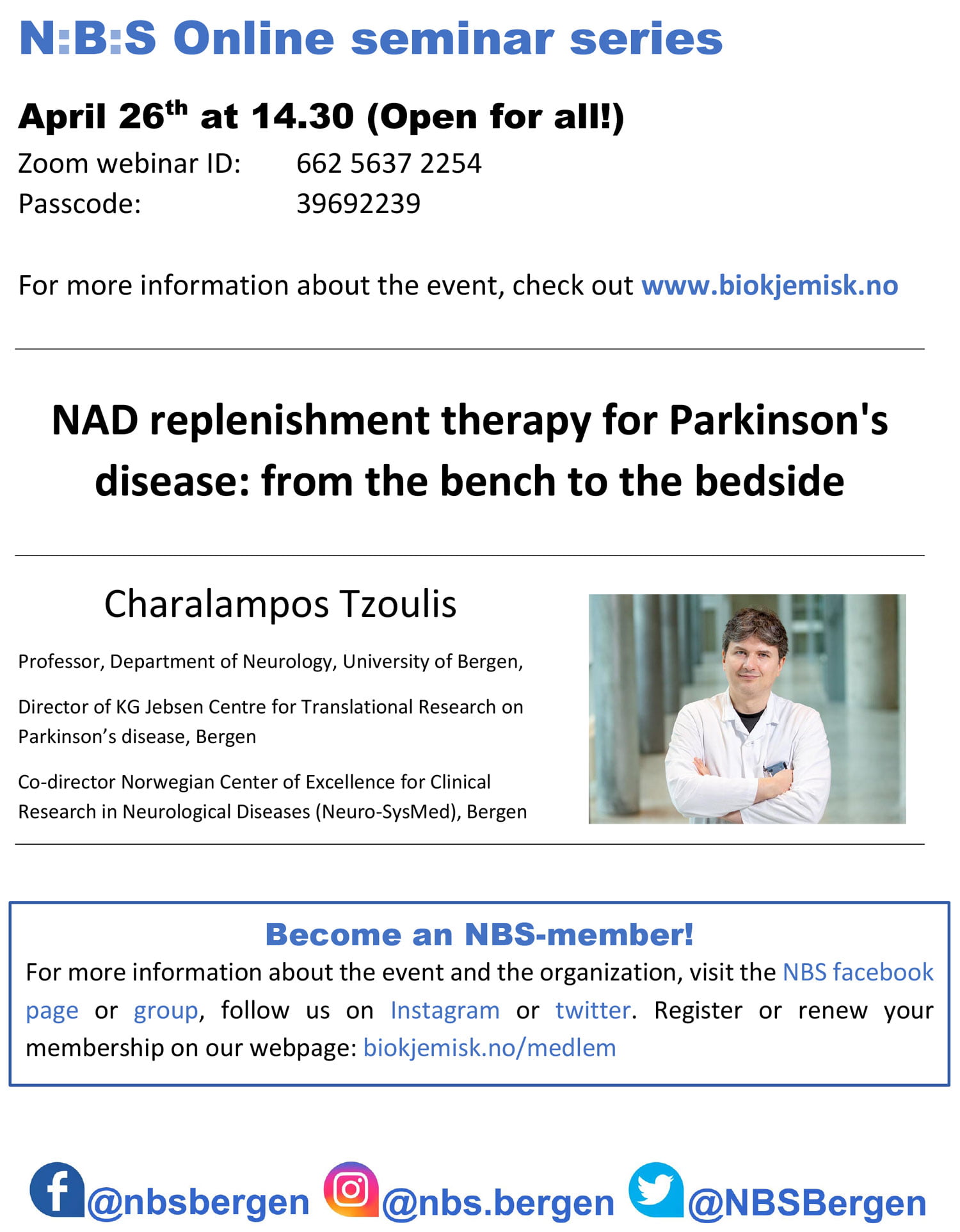 /wp-content/uploads/2014/10/logo-nbs.png
0
0
NBS
/wp-content/uploads/2014/10/logo-nbs.png
NBS
2022-04-20 09:26:12
2022-09-23 00:03:03
NBS Online Seminar Series – April 26th at 14.30 | NAD replenishment therapy for Parkinsons disease: from the bench to the bedside