NBS Bergen Julemøte 2022 – Prof. Anni Vedeler
NBS Bergen is happy to invite you all to the NBS Bergen Christmas Meeting and General Assembly, on Tuesday Nov. 29th at 16.00 at the Department of Biomedicine, UiB. There will be a scientific presentation from Prof. Anni Vedeler, Dep of Biomedicine, UiB. Pizza and refreshments will be served.
The Lipid-Binding Protein Annexin A2 in the RNA world
The regulation of intracellular functions in mammalian cells involves close coordination of cellular processes. During the recent years it has become evident that the sorting, trafficking and distribution of transport vesicles and mRNA granules/complexes are coordinated to minimize the use of cellular energy and ensure effective simultaneous handling of all components required for a specific function. Identification of specific proteins that act at the crossroads of such coordinated transport events will ultimately provide mechanistic details of the processes. Annexins are multi-functional proteins involved in a variety of cellular processes associated with Ca2+-regulation and lipid binding, linked to operation of both the endocytic and exocytic pathways. Furthermore, Annexins bind specific mRNAs and is involved in the regulation of mRNA transport and translation. The combined RNA- and lipid-binding properties of the Annexins make them attractive candidates to participate in coordinated transport of membrane vesicles and mRNAs regulated by Ca2+.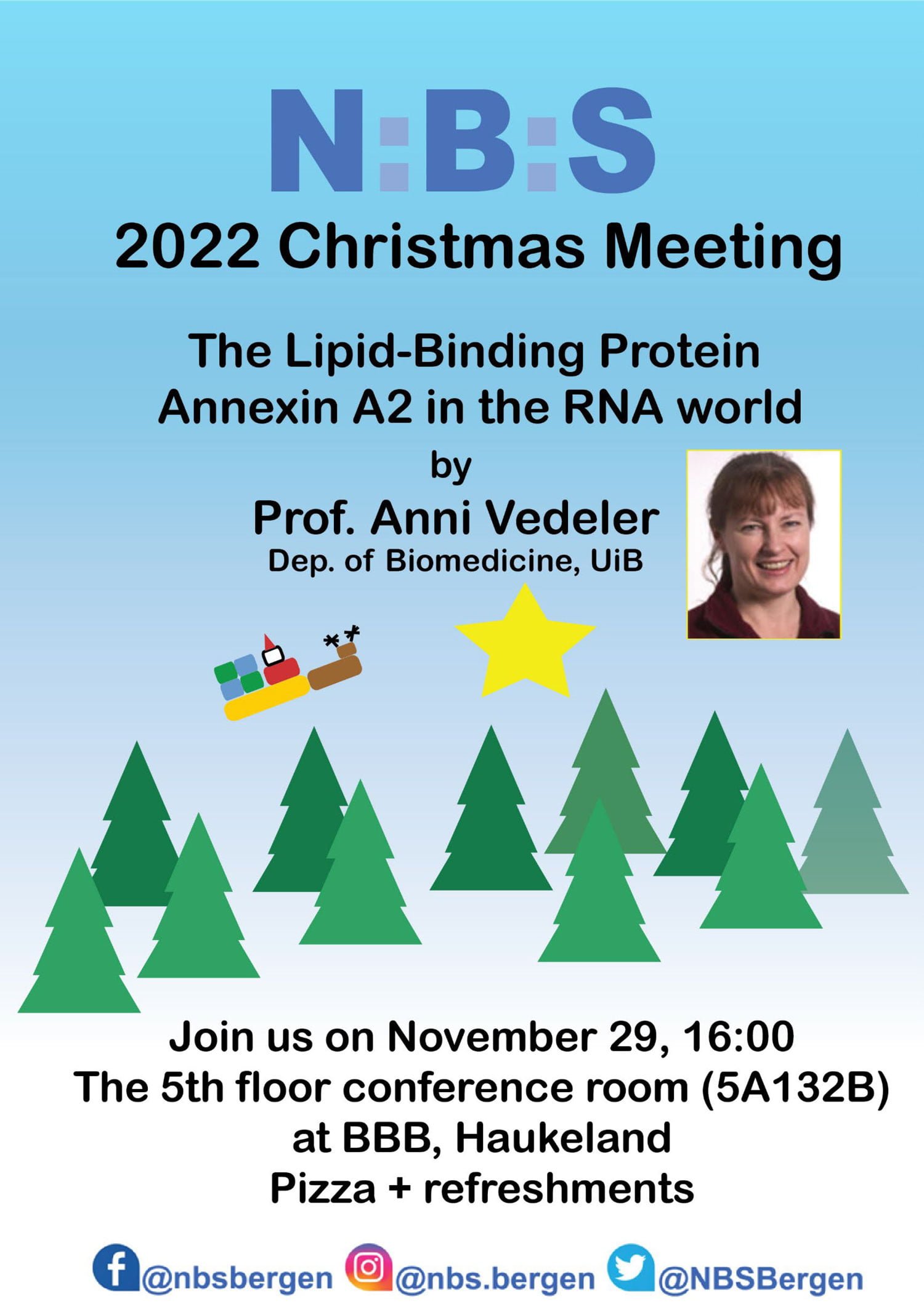 https://www.biokjemisk.no/wp-content/uploads/2023/06/nbs-norsk-biovitenskapelig-selskap-300x100-1.png
0
0
NBS
https://www.biokjemisk.no/wp-content/uploads/2023/06/nbs-norsk-biovitenskapelig-selskap-300x100-1.png
NBS
2022-11-15 09:42:51
2022-11-15 10:23:14
NBS Bergen Julemøte 2022 – Prof. Anni Vedeler